As part of Napp Pharmaceuticals Holdings Limited, Bard Pharmaceuticals Ltd manufactures a range of ethical pharmaceutical products supplied to over 40 countries worldwide. Employing over 400 people with a variety of skills and backgrounds, the company focuses strongly on recruiting, developing and retaining the right people. Bard Pharmaceuticals aims to provide a happy, friendly and supportive environment for each of the teams that make up the Production, Supply and Quality Directorates. Voted in the top 20 of the Sunday Times Best Places to Work in 2014, Bard's Core Values and Leadership Attributes support everything they do. They recognise the importance of continuous improvement, through sharing of ideas and innovative ways of working, and this permeates every part of the organisation.
The Brief
In some ways the issue faced by the Company was a high-quality one to be faced with; how to introduce the next generation of learning and development, but using the skill, knowledge and expertise already abundantly present within the organisation. Bard has always been ahead of the game in matters educating and developing its staff, and thus finds itself constantly pushing the boundaries when it comes to new approaches for acquiring and sharing learning. Mike Mair, Head of L&D at Bard, was clear he was not looking for 'just another training course' but something that would pique the interest and enthusiasm of the associates and encourage them to seek new ways of sharing learning. Peer-to-peer learning is not new in itself, but would be a novel approach to sharing existing knowledge within the business.
Mike wished to introduce the opportunity for associates to observe and learn from fellow professionals as they work and reflect upon their work. Peer-to-peer learning also brings with it the social aspects of learning, helping people develop their professional identity as well as potentially new work relationships to build an ongoing resource and support.
Staff at Bard are highly trained, highly intelligent individuals who would not suffer fools gladly! In addition the Company has a reputation for offering its staff forward-thinking, world class training, not only by topic, but by methodology. The approach had to be innovative, credible and sustainable. Whilst peer-to-peer learning is documented within the education arena, little is written about this approach within the commercial world. We had to think laterally when researching the topic for ways of introducing it engagingly. In addition to this, we were working through the HR team, meaning the approach and its implementation had to be transferable.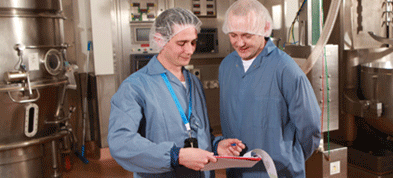 We caught up with Mike about 6 months after the initial workshop and were pleased to hear the approach has taken off, and people can be heard in a variety of places talking enthusiastically about peer-to-peer learning. He was keen to avoid the approach being seen as an HR initiative or any sort of 'roll out' feel to it. Much more, he wanted the early adopters and the pioneers around the organisation to seek opportunities to try it out, and find ways to make peer-to-peer learning their own. This seems to have been successful so far, at least anecdotally. Because there will not be a formal roll out or review of the approach, quantitative measurement will be nigh on impossible; it was never about financial payback.
The first step was a great deal of research, to find examples, approaches, case studies and experiences of peer-to-peer learning within the workplace. Together with the HR team, we set up a joint 'Scoop-It' account to collect research, case studies and documentation about peer-to-peer learning, from which to glean examples of best practice in other organisations. The output was a half day workshop with the HR team to introduce some concepts and approaches, as well as a discussion on how they could kick-start an initiative of peer-to-peer learning across the organisation, whilst recognising that to be successful, such an initiative needed to be owned by the directorates and associates, and thus self-sustaining from the start.
We ran a half day workshop for a focus group, made up mainly of HR team members who would be introducing it into their directorates. That meant they had to be not only convinced themselves of the approach, but also clear about how they would introduce it to their internal customer groups.
"I really appreciated the research and strategic input that both challenged and validated our thinking. The workshop was a real learning and development event as it enabled us to see opportunities in our business and was a catalyst for action and application.
Peer-to-peer participation and learning is growing and evolving as a tool and technique. It is about managing and sharing knowledge and experience, challenging yourself and others, building relationships and identifying opportunities to improve."